Saturday 14 March 2009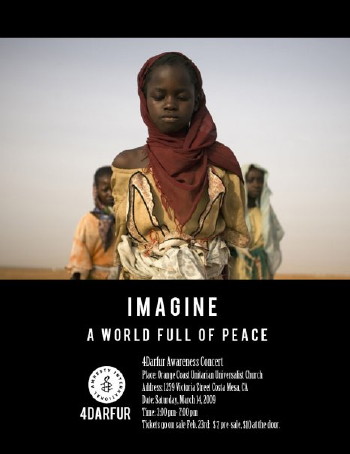 When
Saturday 14 March 2009
16:00 – 19:00 (4:00 PM – 7:00 PM)
Doors open at 15:00 (3:00 PM)
Where
Orange Coast Unitarian Universalist Church
1259 Victoria Street, Costa Mesa, California
see here for map and directions
Be sure to read directions about parking!
Who
Miriam Khan and Stacy Suh, members of the Troy Amnesty International High School Group
In conjunction with members of the Valencia, Dana Hills, and Los Alamitos high school groups
And Amnesty International local groups in Orange County
What
A concert to benefit Darfur. All profits to go to Amnesty International.
How much
Tickets:
$7 pre-sale if you purchase direct (from someone in your high school)
$8 pre-sale if you purchase online (+ 50¢ PayPal service charge)
$10 at the door
Bands
Transcend—from Troy High School
Lon Chaney—from Los Alamitos High School
Basic—from Troy High School
Blackout 101—from Calabasas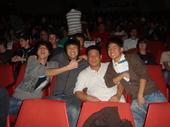 Basic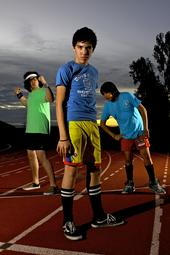 Blackout 101
Information and Entertainment
Darfur Info Table: We have postcards from Amnesty International and a slideshow. Get your Darfur sticker at the info table.
Guest speaker
Face painting
Souvenir table: T-shirts ("Hope" and "4 Darfur" shirts), CDs (Instant Karma and Music for Human Rights), Amnesty International posters and books. "End the Killing in Darfur" buttons will be given to the first 10 customers who buy from the souvenir table so be sure to buy early!
The hope shirt comes in kiwi green or aquatic blue. The 4 Darfur shirt is available in white.
Food: We will be selling lemonade, bottled water, baked goods, popcorn and chips.
And more!
4Darfur T-shirt
Hope T-shirt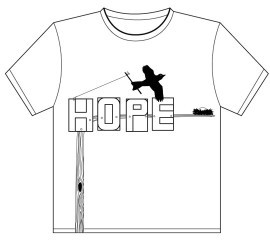 T-shirts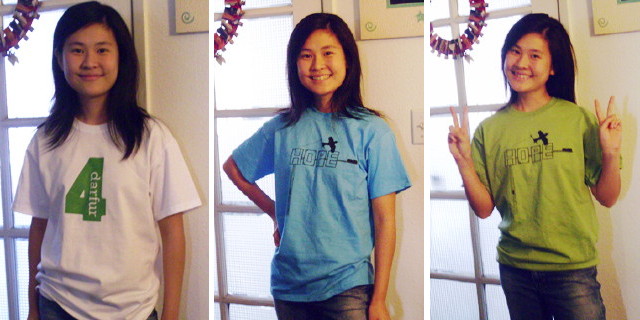 Directions
Directions to Orange Coast Unitarian Universalist Church
Parking: The church has a small parking lot. But on week-ends you can park in the parking lot of the office building next to the church (Viva office building.) Please carpool!!