Who We Are
Local group 178 has been meeting in Irvine since 1979, fighting for human rights both locally and globally. Anyone is welcome to join our group. Please come to one of our meetings and find out about our work!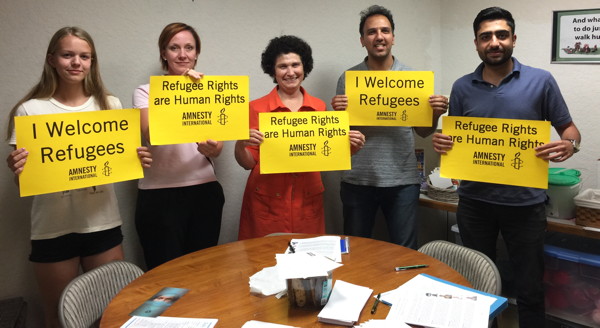 What We Do
Monthly Meetings
At our meetings we write letters, discuss current human rights business, plan our events, and will have guest speakers or show human rights documentaries.
We meet at the Irvine United Congregational Church in the Peace Room (the room next to the sanctuary), on the last Tuesday of every month at 19:15 (7:15 P.M.).
Action File
Iran: Union Activists
Our current action file concerns trade union members in Iran: Esmail Abdi (teacher), and bus driver's union members Reza Shahabi, Ebrahim Madadi and Davoud Razavi. They are either imprisoned or in liberty pending appeal. The Iranian Government has banned independent trade unions and does not recognise the right of workers to strike.
Please help us support these workers unjustly imprisoned.
December 2018
Every December, Amnesty International groups throughout the world join in a special holiday action to write letters for human rights cases and send cards to individual prisoners of conscience. Join us for our local 2018 Write 4 Rights public event on Sunday 9 December!