Join us for a fun, spiritually uplifting event!
What
Walk For Hope
Where
El Dorado Regional Park, 7550 East Spring Street, Long Beach, California (map)
When
Saturday 17 October 2009, 9:00–13:00 (9:00 AM–1:00 PM)
Get there by 10:00 at the latest to join the main group of walkers, though you can do the walk and join in the events at any time. There will be live music, free food, and many booths for local non-profits. A great event for kids! Younger children can bring their bikes and bike the route.
How Much
Free!
Help us at the walk
You can help us in various ways on the day of the event.
Stop by our table and sign our letter-writing actions.
Donate: This is one of our group's yearly fund-raisers. We spend hundreds of dollars each year on postage alone for our Human Rights work. Here is your chance to help us financially in our work. At the Walk For Hope page for registered non-profits, you can donate to Amnesty International Group 175. Any amount, however small, will help!
AI members: If you have free time, volunteer to staff the table for a short period of time and answer questions about Amnesty International. If you plan on spending time as a helper at the AI table, please contact us in advance.
What is the Walk For Hope?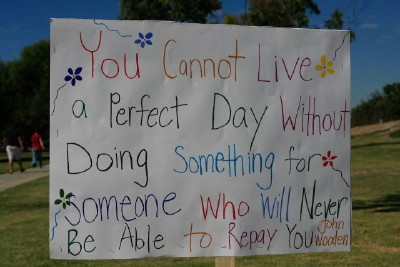 Organized by Be the Cause, the Walk for Hope is a reflective journey that leads the walker along a park path decorated with handmade expressions of love and famous quotes, all selected with care for their insight and inspiration. In addition, there are several activity stations set-up along the path to give each walker the opportunity to pause, interact, reflect, and sow new seeds of change.
Our group has participated in the Walk For Hope every year since its inception. Join us this year for another fun day in the park, and be sure to stop by the Amnesty International table before or after the walk! At our table you will find
People to explain what our local Amnesty International group in Long Beach does
News about local Amnesty International events
Information on how to join our local announcement mailing list
Letter-writing actions for current Human Rights issues
Information on our group's Prisoner of Conscience case, Zarganar from Myanmar
The opportunity to participate in our photo op to support a Prisoner of Conscience!
Map to El Dorado Park
Once you have entered the park, look for the signs directing you to the Walk For Hope.