Speaker and Topic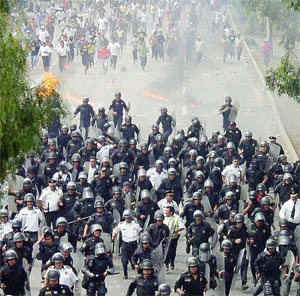 This summer Debbie L. visited with the farmers and companeros that are living in struggle in the state of Mexico, San Salvador Atenco, following up after her first visit in 2006. It has now been three years since the Mexican government seized their town, raped over 40 women in a 24 hour period, arrested over 200 and beat the elderly, disabled, women and children and left two dead.
The assumption is that the events that took place on that dreadful 3rd and 4th of May 2006 were a vengeance from the Mexican government after their earlier defeat by farmers and organizers of the same community who successfully saved their land from being turned into an airport back in 2001 through 2003.
Debbie has a video compilation that recaps the initial events of terror from May 2006, but that follow up with current status on their struggle, including several that have recently returned after 3 years of living in exile/ hiding, and interviews of loved ones of the remaining 12 prisoners and the remaining two who remain forced to live in hiding / exile for fear of their lives after 3 years.
In her own words:
I look forward to sharing with your group. Amnesty International has played an active role in supporting the struggle of the People Front in Defense of the Land (FPDT), in demanding freedom for the prisoners and accountability for those who caused the terror of 2006. As of today, the government has acknoweldged there were gross human rights violations, but still refuses to lay guilt on any party.
Our speaker
Debbie is one of the founding members of the Inland Empire Immigration Raids Rapid Response Network, and has also just completed a 45 minute documentary covering a half dozen or so raids that have been video taped and documented over the last year. She is an immigrants rights advocate, with particular focus on the impact of immigration raids on children and minors, safety of our youth in public schools, churchs, and hospitals from threats of immigration, and working to stop the separation of families that result from immigration raids and immigration detention of parents.
She also a high school teacher, and a single mother of two.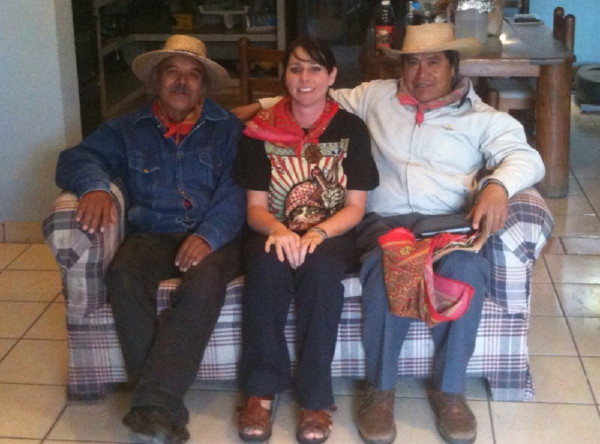 Debbie L. (center) with two activists from San Salvador Atenco
Background
San Salvador Atenco is the municipal seat of Atenco, in the Mexican state of Mexico. It borders Texcoco, a municipio (municipality) of Mexico State, located in the Valley of Mexico, a few miles east of the national capital, Mexico City.
On 3 May 2006, approximately 200 officers from the municipal police and the State Security Agency attempted to evict a group of street vendors selling flowers in Texcoco. Several members and sympathizers of the People's Front in Defense of the Land (Frente de Pueblos en Defensa de la Tierra, FPDT), a peasant organization from San Salvador Atenco, demonstrated against the eviction and the police tried to disperse them.
During the day, several hundred peasants blocked the road between Texcoco and Lechería, and police officers were taken prisoner and held until the next day in an auditorium in San Salvador Atenco. One of the officers was reportedly badly beaten by some of the demonstrators. Witnesses claim the police made widespread use of tear gas and beat demonstrators with truncheons.
Approximately 2000 police from the State Security Agency and one thousand officers from the Federal Preventive Police (Policía Federal Preventiva) descended on San Salvador Atenco on 4 May 2006, in an attempt to arrest those responsible for the previous day's violence, and according to testimonies, arrested many people without warrant in addition to damaging dozens of homes during their searches.
Two young men, Javier Cortés Santiago and Alexis Benhumea, died during the disturbances.
According to testimony, the people arrested on 3 and 4 May 2006 were mistreated during their transportation to Santiaguito state prison:
Prisoners were piled on top of each other on the floor of the vehicles and trampled by police officers;
Several detainees were subject to beatings and death threats;
Several women complained about being sexually assaulted or raped during transport.
One of the women told Amnesty International that when she informed the official from the State prosecutor's office that she intended to file a complaint of rape, another official, who was supervising the taking of statements, said the issue of rape could not be recorded and ripped the paper from his typewriter. Another of the women sexually abused while taken into custody, said: "When I arrived at the prison, the forensic doctor did not want to certify that I had been raped. It seems unfair to me that I shouldn't be believed, that someone can believe that I made it up."
Prisoner of Conscience: Magdalena García Durán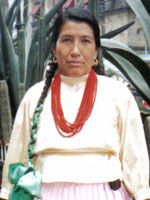 Amnesty International adopted Magdalena García Durán as a prisoner of conscience. A Mazahua Indigenous activist, street vendor and mother of five children, she was imprisoned for more than a year after being arbitrarily arrested on 4 May 2006 in San Salvador Atenco. She consistently denied the charges and her defence lawyer presented evidence to indicate that Magdalena García Durán was not in San Salvador Atenco at the time the offenses of which she was accused took place.
An Amnesty International Success Story
Amnesty International publicized a letter–writing action for Magdalena García Durán on 19 October 2007, and she was released from prison on 9 November 2007.
2009 Update
So far, investigations have produced almost no positive results. In February 2009, the Mexican Supreme Court acknowledged that serious human rights violations were committed in San Salvador Atenco in May 2006 and called for extended investigations to establish criminal responsibility of those directly implicated. The resolution appeared to ignore the valuable work of the investigative commission and the report presented to the plenary of justices by Justice Gudiño which concluded that even when there is no evidence that senior officials ordered police to commit human rights violations, they may be implicated by their failure to stop violations once they were aware of them taking place and by their complete failure to ensure effective and credible investigations into the abuses.
Disregarding the limitations of the court's resolution, it is now imperative for the government of President Felipe Calderón to take responsibility for guaranteeing justice and compensation for the victims in the Atenco case.
References
Mexico: Mexican Supreme Court's Resolution On Atenco—The Route To Justice?
Amnesty International, Public Statement, 17 February 2009
AI Index: AMR 41/008/2009
Mexico— Amnesty International Report 2009
Mexico— Amnesty International Report 2008
Mexico— Amnesty International Report 2007
Mexico: Further Information On Prisoner Of Conscience/ Legal Concern: Magdalena García Durán (F)
Amnesty International, 22 November 2007
AI Index: AMR 41/066/2007
Mexico: Release Of Magdalena García Duran: A Glimmer Of Hope For All Atenco Detainees?
Amnesty International, Press Release, 12 November 2007
AI Index: PRE01/015/2007
Prisoner Of Conscience/ Legal Concern: Magdalena García Durán (F)
Amnesty International, Urgent Action, 19 October 2007
AI Index: AMR 41/059/2007
Mexico: The first anniversary of San Salvador Atenco—untouchable impunity?
Amnesty International, Public Statement, 25 May 2007
AI Index: AMR 41/018/2007
Mexico: Federal Authorities Must Lead Atenco Investigations
Amnesty International, Press Release, 5 October 2006
AI Index: AMR 41/045/2006
Mexico: Violence against women and justice denied in Mexico State
Amnesty International, 4 October 2006
AI Index: AMR 41/028/2006