Group History
Like all local adoption groups, Group #141 works to release a single prisoner of conscience, someone who has been imprisoned for their beliefs, color, sex, ethnic origin, language, or religion, provided they have neither used nor advocated violence. Since it was founded in 1972, the group has worked on behalf of adopted prisoners in Benin, Turkey, the Soviet Union, Somalia, South Korea, Tibet, Myanmar, and Viet Nam. Prisoner cases are assigned to groups after Amnesty International's Research Department in London has carefully screened the cases to determine that they fall within AI's mandate. To ensure impartiality, each group adopts prisoners outside the group's own country. Here are some details of our most recent prisoner cases.
Cho Nwe Oo and Moe Kalayar Oo of Myanmar
From July 1995 to May 2000, the group worked on the case of Cho Nwe Oo, a student activist in Myanmar (formerly Burma), who was arrested on February 20, 1995. She was one of more than 50 young people arrested by police and Military Intelligence (MI) officers at the funeral of U Nu in Yangon (formerly Rangoon, the capital city). U Nu was the first democratically-elected prime minister of Myanmar, who died on February 14; he was a popular politician who had been held under house arrest between 1989 and 1992 for his opposition to the ruling military authorities, the State Law and Order Restoration Council (SLORC).
During the course of the funeral, some young people present delivered a eulogy for U Nu. This apparently prompted the security forces to make the arrests; two people were reportedly severely beaten during the arrests. Although some of those arrested on February 20 were released after a short time in detention, further arrests were made at a later date in connection with the events at the funeral.
On April 28, 1995, Cho Nwe Oo, two other women, and six men was sentenced to seven years' imprisonment under Section 5J of the 1950 Emergency Provisions Act, which provides for the imprisonment of anyone "who causes or intends to disrupt the morality of the behavior of a group of people or the general public, or to disrupt the security or the reconstruction of stability in the Union."
During her imprisonment, Amnesty International considered Cho Nwe Oo to be a prisoner of conscience detained solely for peacefully exercising her rights to freedom of expression and association.
On May 19, 2000, Cho Nwe Oo, was released from prison. The govermnent released a statement saying that "Recently an application was submitted by Ma Cho Nwe Oo's aging parents for her release on humanitarian grounds to attend to their needs. Ma Cho Nwe Oo is in good health. Upon consideration of the applicant's humanitarian factors, the Government granted a clemency to Ma Cho Nwe Oo on May 19, 2000 and extended all possible assistance to the family."
Following the release of Cho Nwe Oo, Group #141 asked to be assigned the case of Moe Kalayar Oo, another of the student activists imprisoned for her participation in the demonstration at the funeral of U Nu. Moe Kalayar Oo was also sentenced to seven years' imprisonment. We worked on her case for one year before she was released in early spring 2001 after serving six years of her sentence.
Chong Jong–ju of South Korea
During 1990-91, Group #141 worked on an investigation case involving Chong Jong–ju, a 26–year–old law graduate in South Korea charged and convicted of involvement in illegal labor strikes, membership in an "anti–state" organization, and publication and distribution of material "benefitting the enemy." An investigation case is used when Amnesty International does not have enough information to decide whether or not a prisoner falls within AI's mandate. The purpose then of the group's letters is to gather information from government authorities and other sources so that Amnesty can make this determination.
Chong Jong–ju was a member of Inminnoryon, a dissident labor organization in Inchon, set up in June 1987 by university graduates who had entered factory workplaces in Inchon. The police accused Inminnoryon of instigating labor disputes and strikes, some of which they say involved violent clashes between strikers and police. On October 15, 1989, the National Police Headquarters arrested 15 members of Inminnoryon, including Chong Jong–ju, who was later sentenced to two years' imprisonment.
As it turned out, Chong Jong–ju was released from prison before Amnesty could make a determination whether to consider him a prisoner of conscience or not.
Yulo Dawa Tsering of Tibet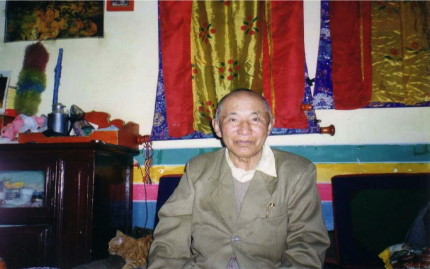 Between April 1992 and November 1994, the group's adopted prisoner of conscience was Yulo Dawa Tsering of Tibet. Yulo Dawa Tsering was a senior Buddhist monk in Tibet's Ganden monastery and university lecturer who was detained by Chinese authorities on December 16, 1987 and held without trial until March 9, 1988, when he was formally arrested and charged with "counter–revolutionary" activities. He was charged with "splittist" activities, the term used by the Chinese government to describe advocacy of Tibetan independence. He was sentenced to a ten–year imprisonment by the Intermediate People's Court of Lhasa, Tibet in 1989 with the term starting December 17, 1987.
According to a Lhasa Radio broadcast at the time of his arrest, Yulo Dawa Tsering was accused of having "collaborated with foreign elements." The broadcast alleged he had confessed that one purpose of his "conversations with foreigners" was to "win support from other countries" for Tibetan independence. He apparently suggested that journalists should be permitted to enter Tibet and that Tibet's god–king in exile, the Dalai Lama, should not return until "everything has been changed."
Yulo Dawa Tsering has spent long periods in prison before this most recent imprisonment. He was originally sentenced to life imprisonment in 1959 at the time of the Tibetan uprising agains Chinese rule. He was granted amnesty and released in 1979.
On November 6, 1994, Yulo Dawa Tsering was released from prison along with three other Tibetan activists.
During his imprisonment, Amnesty International considered Yulo Dawa Tsering to be a prisoner of conscience, detained solely for the peaceful exercise of his right to freedom of expression.
On February 22, 2002, Yulo Dawa Tsering died at his home in Lhasa. His health had been deteriorating for several years. According to a 2001 TibetInfoNet (TIN) report, he was having trouble moving around and walking, and he was unable to do the "kora" around the Barkor (the pilgrimage circuit). A friend of his who is now in exile told TIN that he also suffered from depression in the latter years of his life. He said: "After his release from prison, he was often taken in for questioning and held for short periods in detention. He didn't have a moment's peace, right up to the day he died."